Rapuka
Regular price
$59.00
Sale price
$27.45
Unit price
per
Sale
Sold out
FAST, Proven & Effective Neck,Shoulder & Back Pain Therapy Without The Need For Surgery.
SOFT, Adjustable Neck Support - Alter it To Fit Your Neck Perfectly
Dramatically Corrects Posture, Helps Debilitating Neck & Back Pain
Lightweight and Portable, Ideal For Travel & Work
Feel Healthy and Mobile QUICKLY & Naturally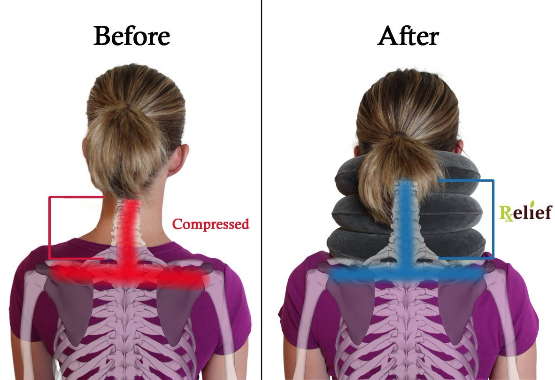 Discover The Instant and Effective Neck, Shoulder & Back Pain Reliever Device!
What Is The Inflatable Neck Support Brace?
Neck, back and shoulder pain are some of the most common problems among adults. It can be extremely painful and have a huge impact on your life as it jeopardizes your mobility which is extremely important in our everyday and our health. 
The Inflatable Neck Support Brace can stretch and relax the neck and shoulder muscles with the exact amount of traction while improving spinal posture. The stretching can decompress the spinal disc, which may minimize bulging and ease the pressure on nerve and blood circulation. 
IMPROVES MOBILITY FOR A BETTER LIFE AND BETTER HEALTH
INCREASES BLOOD CIRCULATION
ALLEVIATES STIFF AND PAINFUL JOINTS
How Does Inflatable Neck Support Brace Work? Super Simple & Safe
The Inflatable Neck Support Brace device is a genius neck pain relief brace pillow which is simple and safe to use. The device is designed to release pressure and tension from the neck, back and shoulder alleviating pain.
Instructions for use: (detailed instructions come with the device)
Place the device around neck.

Adjust the Velcro straps to fit your neck.

Using the easy hand pump, inflate the brace pillow till your neck sits comfortably.

Use it while at home, at work (great for sitting at the computer!) or travelling.

To deflate, after the treatment, press the safety ball up into the raised cavity which allows the device to deflate, then remove the device.
Who Will Benefit Most From A Neck Traction Device?
Anyone who has stiff or sore neck muscles
Anyone suffering from compressed disc or pinched nerves
Anyone who has pressure that has built up in their shoulders and neck
Anyone who spends a long time in front of their computer
Relieve Your Stiff Or Sore Neck
Get Relief From Migraines And Headaches
Improve Your Posture
Increase Your Overall Range Of Motion
Improve Your Mood
Sleep Better
Save Money And Time
HIGH DEMAND - Order arrives in 2-4 weeks
Due to extremely high demand, orders take up to 2-4 weeks to ship and arrive. Please be patient, we are doing our very best to fulfill every order that we receive!
Share
View full details
Experience The Difference
Built in booty pads to provide instant booty care
Ergonomic pad designed to contour for a realistic curve
Lifting fabric knitted to uplift your shape
Hyper-stretch waistband design to comfortably keep your pants in place
Your perk elevated, your ratio redefined

• Perk elevation for a better thigh to hip ratio.

Looks real, feels real, even after washes

• Lab-developed foam for optimal bounce and shape retention.

• 100 hours of machine washes to ensure durability.

• 1000 hours of pressure warping to ensure quality.

Your perfect shape, here's why

• We put 20,000 hours into our shape design, meticulously sculpting the perfect shape.

• 500 real women were involved in our study for the perfect contour that fits you.